Infinity is a product series that is based on the Concorde Group's half-century experience in the production of porcelain stoneware, and it is  a structured, specialised response to the latest technological innovations in the world of porcelain stoneware and the new trends in the world of ceramics.
Infinity is specialised in the creation of

large-scale slabs

in porcelain stoneware up to a maximum measurement of 1620×3240 mm.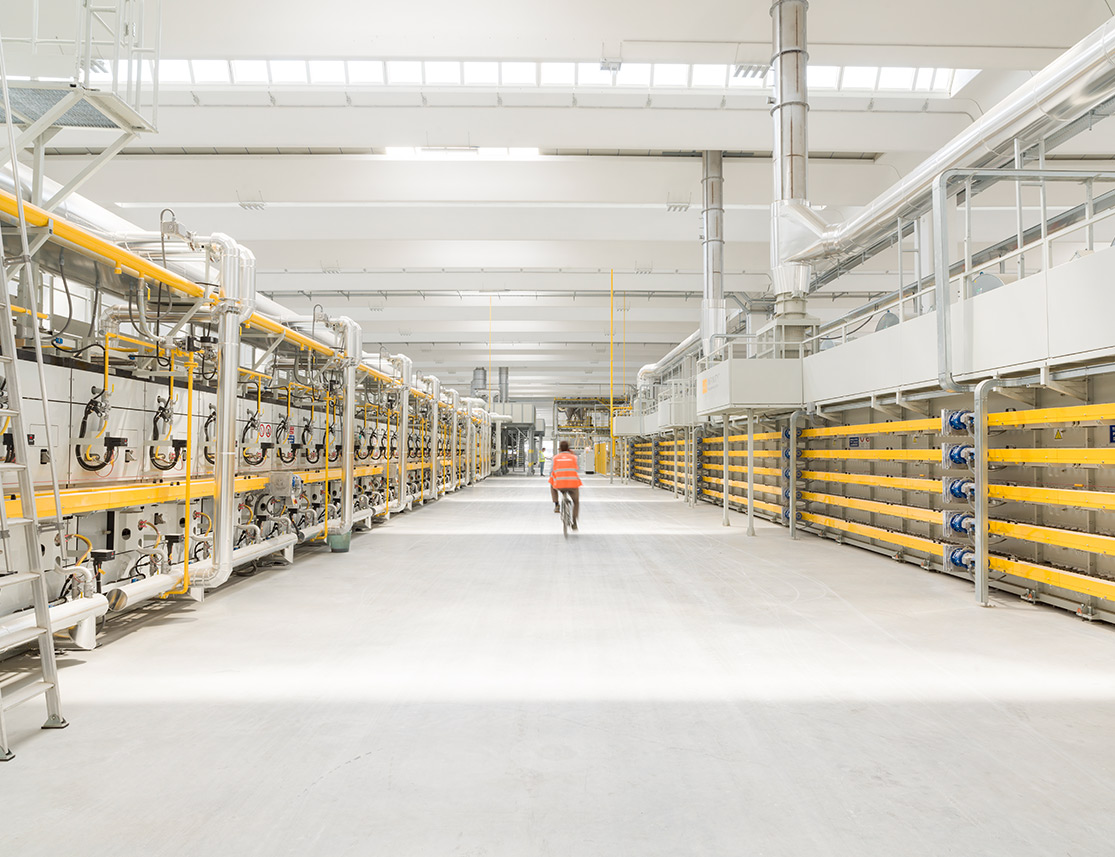 The manufacturing system combines layers of coloured powders into the body of the slab, perfecting the appearance down to its minimum details.
The Infinity

porcelain stoneware

comes from careful research and selection of premium raw materials and is a highly specialised manufacturing process
Infinity creates unique ceramic slabs, uniting aesthetics, design and a consolidated technical know-how, to produce original and trademark textures and colourings.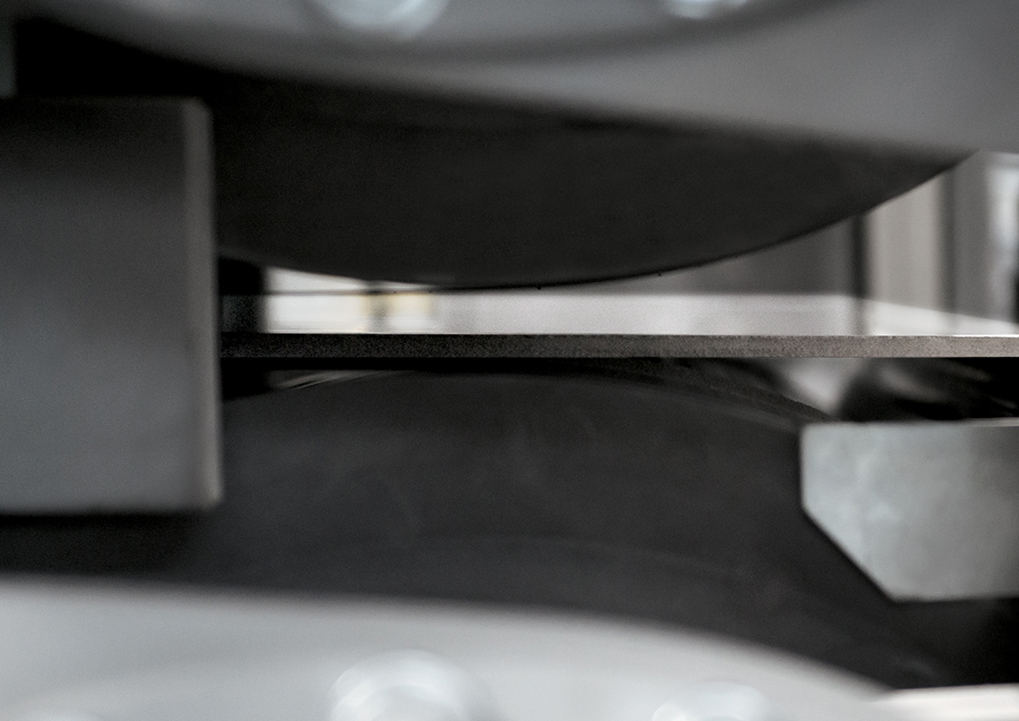 The Infinity Porcelain stoneware is manufactured with a highly specialized process, and using careful research and selection of premium raw materials.
In essence, Infinity Porcelain is made from clay, but not just any type of clay can be used to produce Infinity Porcelain. Infinity Porcelain is a special clay that contains a high percentage of a mineral known as kaolinite along with silica, feldspar and other mineral oxides. These mixtures together constitute the strength and durability of Infinity Porcelain.
The elements it contains are basically the same as granite. When these elements are sintered at a temperature of 1230ºC, it will create a new, compact material with incomparable technical performance.
The result is a super dense material that is perfect not only for countertop applications but also for wall coverings (interior and exteriors), flooring and furnishings.
THE BENEFITS
Porcelain are about 30% stronger than granite and are also scratch resistant. In fact, only other ceramics (such as ceramic knives) are able to scratch the surface, so please avoid using these types of tools on porcelain countertops. In addition,  Porcelain is stain-resistant too.
In fact, to be certified as true porcelain, the water absorption rate must be less than 0.05%. Repelling water from the surface means no stains and no discoloring.
And due to the high-heat required for the sintering process, the resulting porcelain surface can handle the extreme temperatures of high and low temperatures. Although temperature is not a big concern, we still recommend using trivets to avoid very rare cases of thermal shock.
We especially recommend porcelain countertops in areas which are exposed to the sun, as it also has excellent UV resistance performance. Even if it is directly exposed to sunlight for a long time, it will remain the original finish without any discolouring.
Throughout the manufacturing cycle, Infinity is committed to taking all actions not only guarantee quality and efficiency, but also they're acting as an environmentally responsible organization. This includes ensuring:
100% of the raw waste produced is reused during the manufacturing process.

100% of the water used in the manufacturing process is purified and fully reused during the grinding process.

80% of the electrical energy consumed is produced by the Infinity factory.

Infinity slabs are made entirely from natural, non-toxic materials, most of which come from local quarries.

Like all manufacturers belonging to Ceramics of Italy, Infinity voluntarily adheres to the Best Available Techniques protocol.
Infinity specialized in the production of large slabs in sizes up to a maximum of 1620×3240 mm, and thicknesses of 12 mm and 20 mm.
The manufacturing system combines layers of coloured powders into the body of the slab, perfecting the appearance down to its minimum details.
The slabs can be applied to walls, transformed to create decorative furnishing items or used as external cladding on bonded or ventilated facades.
All the Infinity products are made exclusively in Italy.
The Infinity slabs are the result of a combination of excellences: smart technologies, high quality raw materials, and a deep culture in surface design.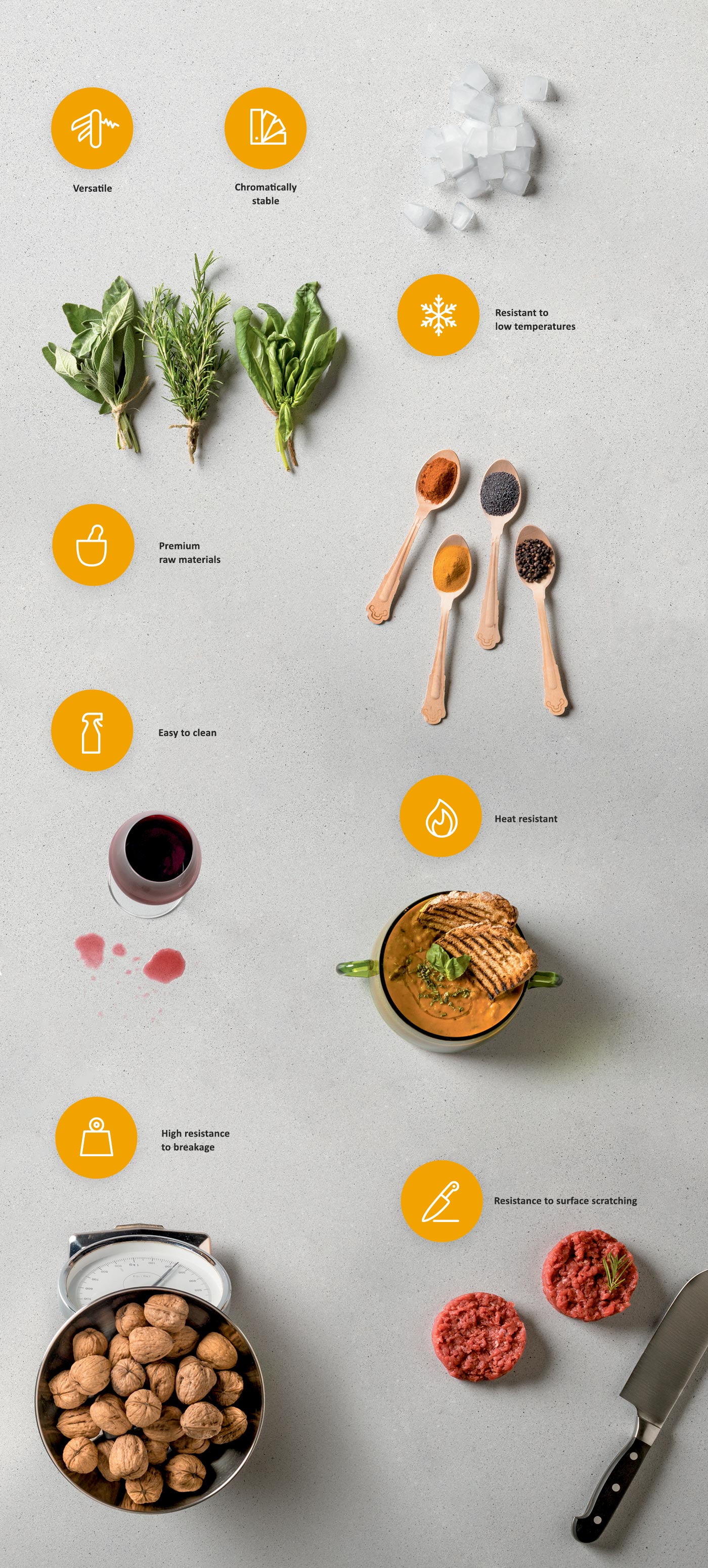 KITCHEN
The kitchen is the place that we are most at home in, where our imagination and freedom find their best expression.
Infinity provides the perfect frame for your kitchen. Thanks to the innovative large-scale surfaces, uniformity of design and elegance of details, Infinity will ensure that you cook and enjoy your meals with friends and family always within the best standards of hygiene and comfort thanks to their technical characteristics.
FURNISHINGS/CLADDING
Just like a specially tailored garment, Infinity finds perfect applications as interior and furniture cladding. The reduced weight and the ease with which it can be processed make it suitable for tables, counters, doors, fireplaces and many other uses.

BATHROOM
With nearly zero porosity, simple and intuitive maintenance and a rich repertoire of colours and finishes, Infinity is the ideal option for your counter, basin, flooring or shower walls. The keywords are tonal continuity and balance.
Your bathroom, a place for cleanliness, personal care and relaxation will take on new importance and value thanks to the large Infinity slabs.
OUTDOOR
The Infinity slabs can also be used for creating outdoor furnishings, even matching any outdoor cladding of the building. The surfaces do not suffer from any problems linked to atmospheric temperature changes and guarantee ease of ordinary cleaning even if exposed to the weather.
VENTILATED FAÇADE
The ventilated façade in porcelain stoneware is a high-performance solution in many respects. In fact, it is a particularly advantageous building cladding system from various points of view, as it ensures: energy savings, better cleanliness of the environment, maintenance of its technical and aesthetic performance, ease of renovation and protection from water.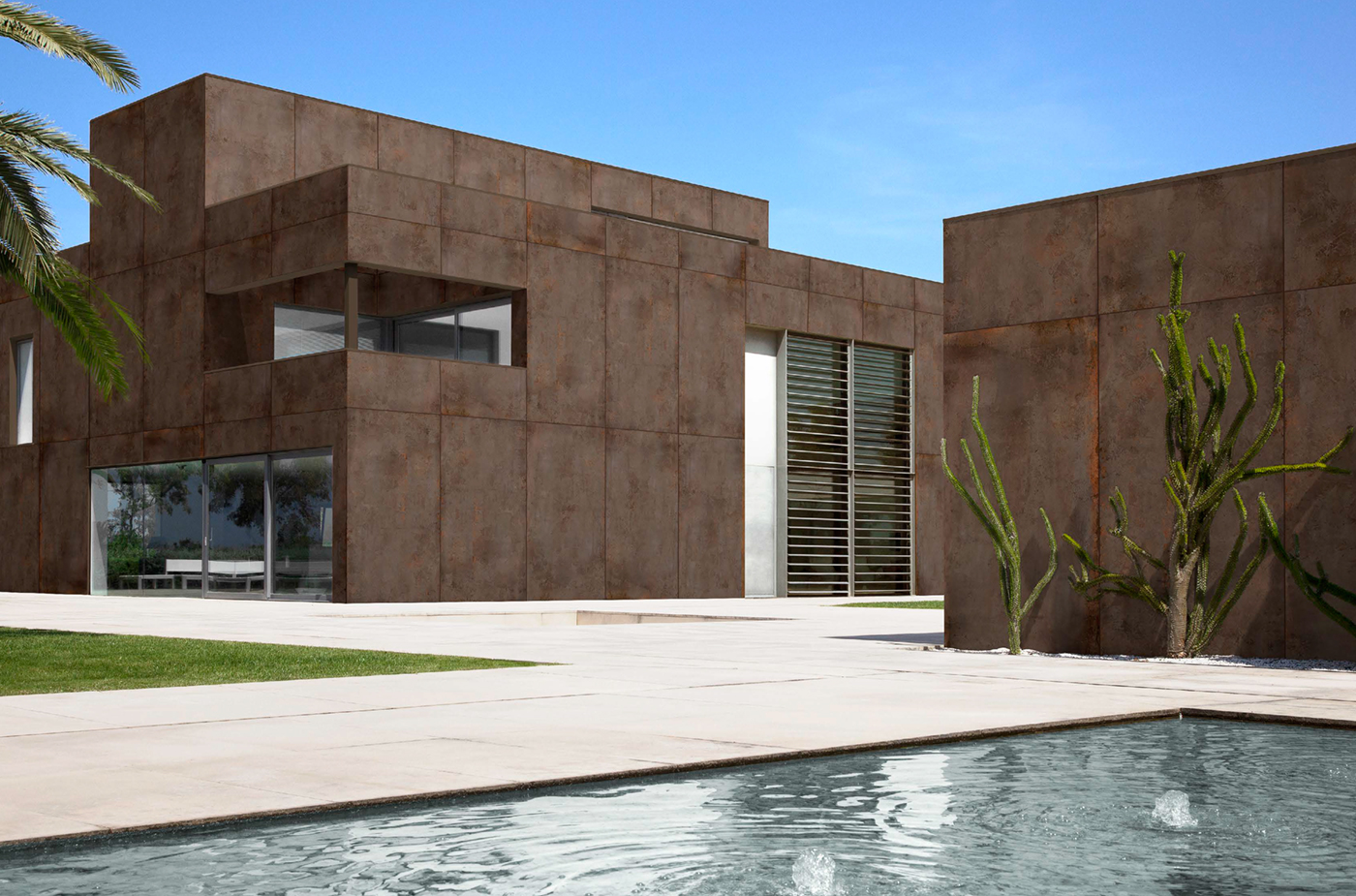 A SUSTAINABLE SOLUTION
Ventilated façades are a highly sustainable system, aimed to increase the

energy performance

of buildings.
The ventilated system works with the thermal insulation layers to minimise consumption linked to the cooling of interior areas, to improve indoor comfort, to disperse moisture from the walls behind and to protect them from bad weather.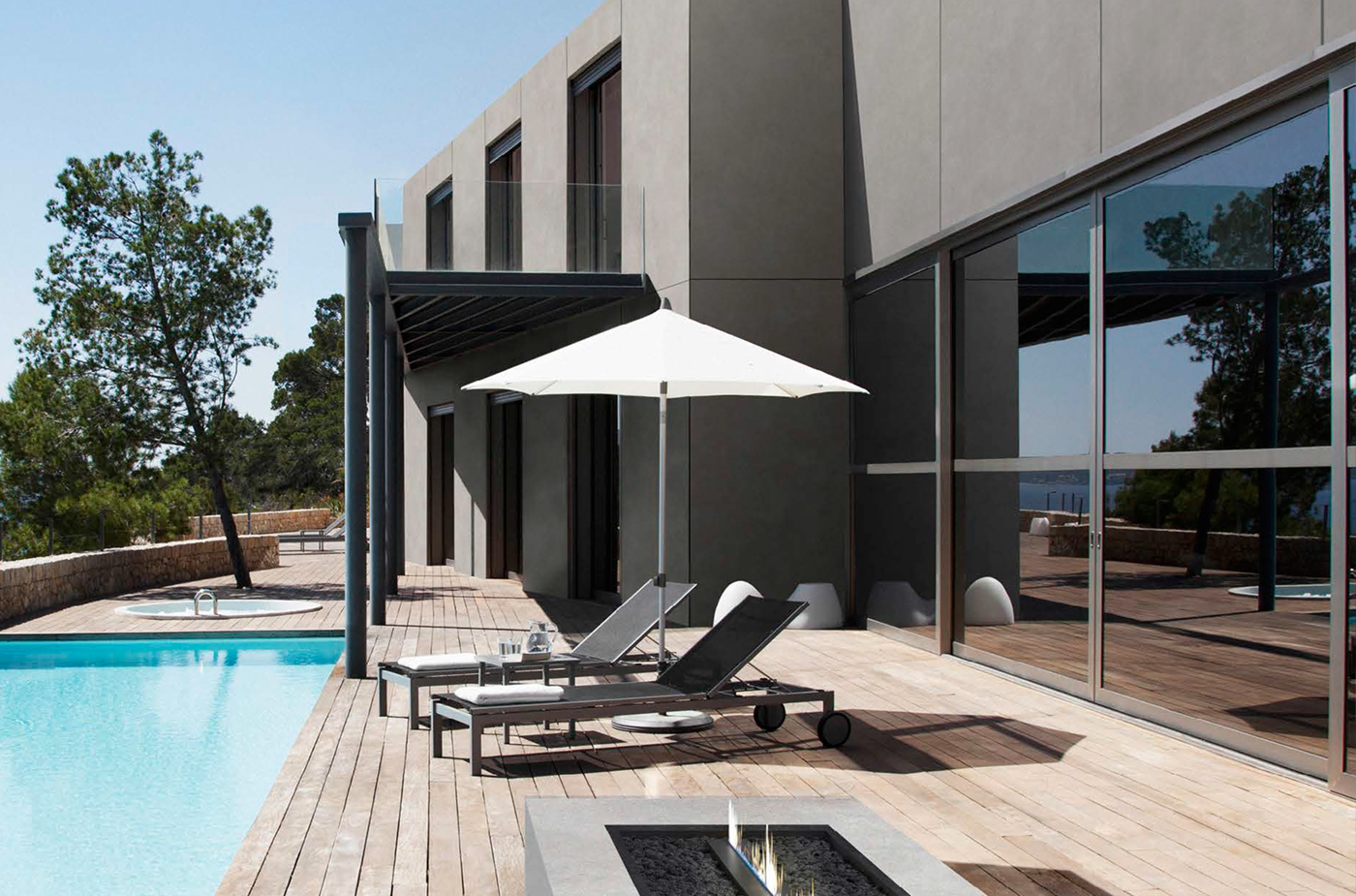 The Project Division of Infinity specialises in the design and consultancy for any type of architectural project. "Tailor-made" applications are fitted to the needs of customers, architects and industry professionals.
Complete competency and in-depth experience is ensured by our experts who will always find concrete and punctual solutions for the project requirements and after-sales assistance.*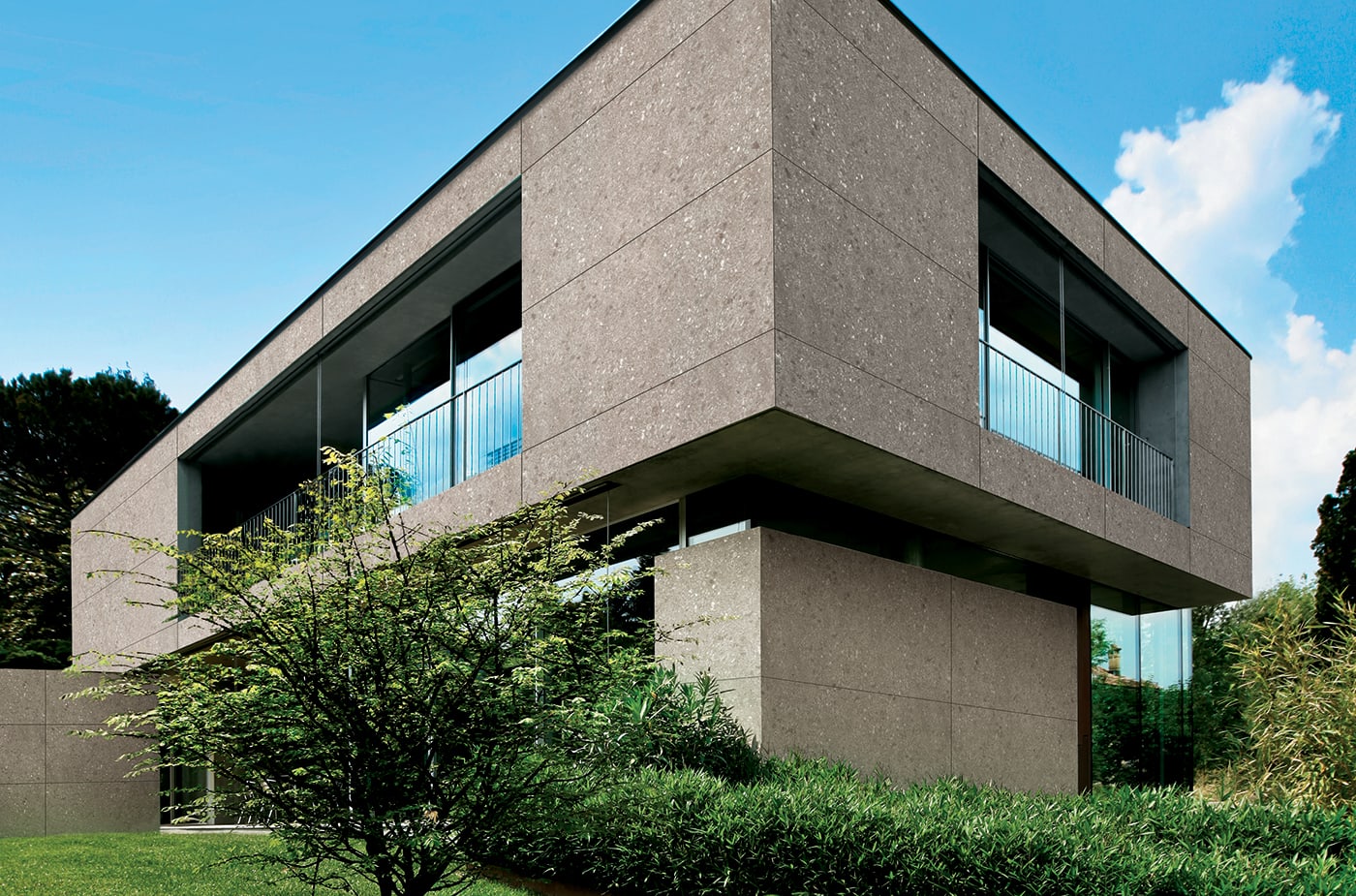 ———————————————————————————————————————————————————–
Infinity是在Concorde Group半個世紀以來在石材瓷磚生產方面經驗的基礎之上,從專業的角度以石材瓷磚領域最新技術創新所推出的產品系列。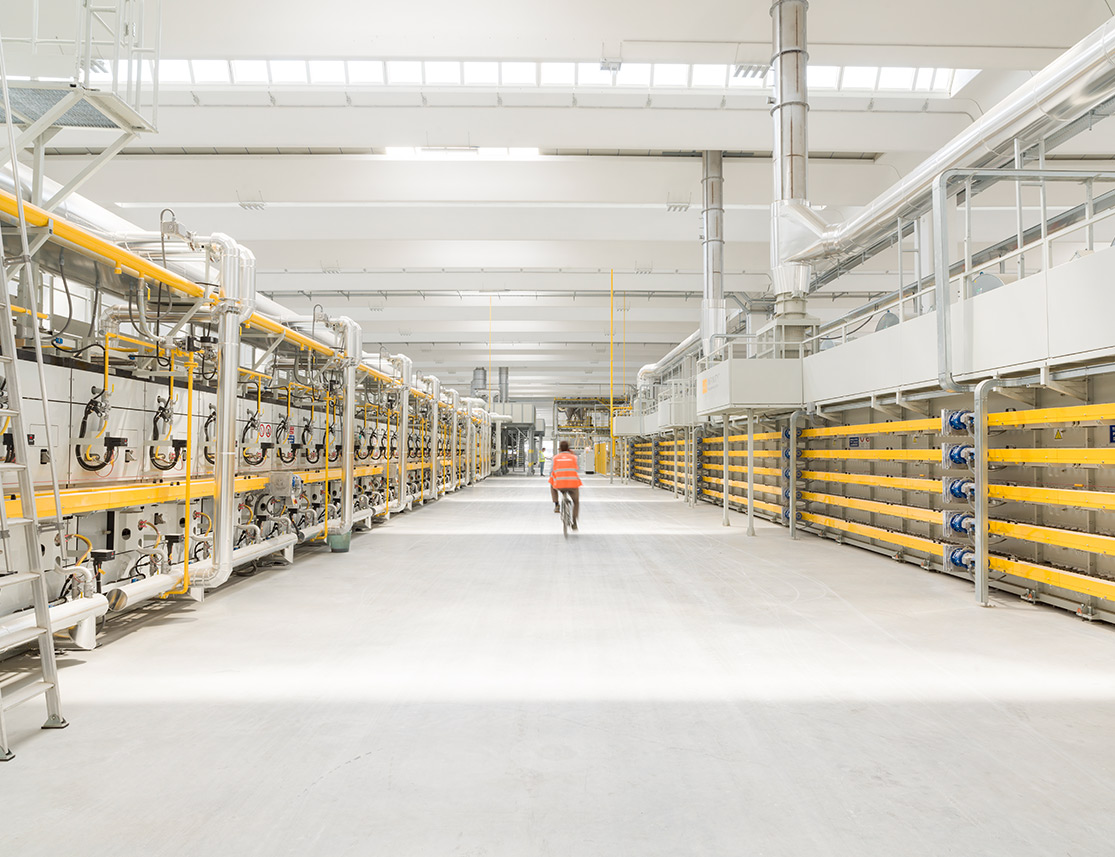 Infinity專業於生產大型板坯,最大尺寸為最大1620×3240 mm,厚度為12 mm和20 mm。
該製造系統將彩色粉末層結合到板坯中,從而將外觀完美地保留到最小的細節。
這些板可以應用於牆壁,可以改造成裝飾性的家具,也可以用作粘結或通風外牆的外牆。
所有Infinity產品均在意大利獨家製造。
Infinity平板是多種卓越技術的結合:智能技術,優質原材料和深厚的表面設計文化。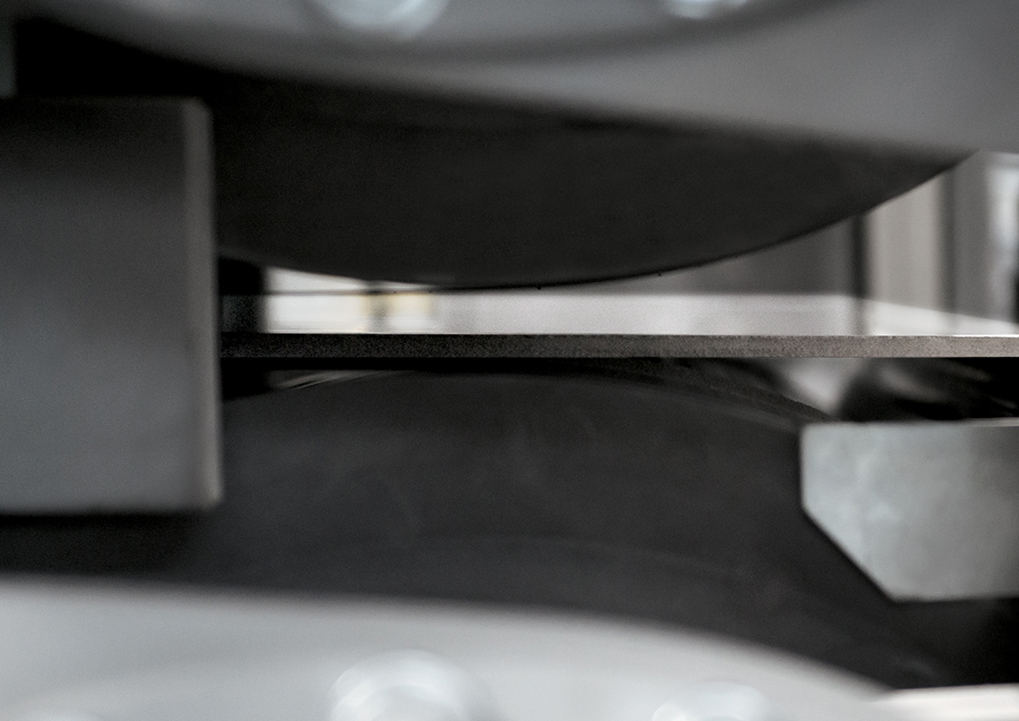 Infinity Porcelain (Infinity石材瓷磚) 使用精心研究和精選優質原材料並以高度專業化的過程所製造的。
從本質上來說,Infinity Porcelain是用粘土製成的,但並不是任何類型的粘土都能用於Infinity的製造。Infinity Porcelain這種特殊的粘土包含高比例的礦物(稱為高嶺土)以及二氧化矽,鉀長石和其他礦物氧化物,這些混合物共同構成了Infinity Porcelain的強度和耐用性。
它所包含的元素基本上與花崗岩相同,當這些元素在1230ºC的溫度下進行燒結時,這些元素會產生出具有無與倫比的技術性能且緊湊的新型材料。
這種產物是一種超緻密的材料,不僅適用於檯面應用,而且適用於作爲牆面(內部和外部),地板和家具的材料。
優點
瓷磚的強度比花崗岩約強30%,並且也耐刮擦。實際上,也只有其他陶器(例如陶瓷刀)才能刮傷其表面,因此請避免在瓷磚檯面上使用這些類型的工具。此外瓷磚也耐髒。
另外,想要獲得真正的瓷磚認證,吸水率必須小於0.05%。表面斥水意味著抗污漬及抗褪色。
而且由於燒結過程需要很高的熱量,因此所得的瓷器表面可以承受高溫和低溫的極端溫度。儘管溫度不是大問題,但我們仍然建議使用三角架以避免非常罕見的熱衝擊。
我們也特別推薦在會受到日曬的地方使用瓷磚檯面,因為它也擁有優秀的的抗紫外線功能。就算長時間直接暴露在陽光下,它也將保持原樣,而不會褪色。
在整個製造週期中,Infinity致力於採取所有行動不僅可以保證質量和效率,同時開可以還可以確保對環境負責的確實可行的行動,這些行動包括:
所產生的原始廢物的100%在製造過程中被再利用。

生產過程中使用的100%的水被純化,並在研磨過程中完全重複使用。

消耗的電能的80%由Infinity工廠生產。

Infinity平板完全由天然,無毒的材料製成,其中大部分來自本地採石場。

像所有屬於意大利陶瓷的製造商一樣,Infinity自願遵守最佳可行技術協議。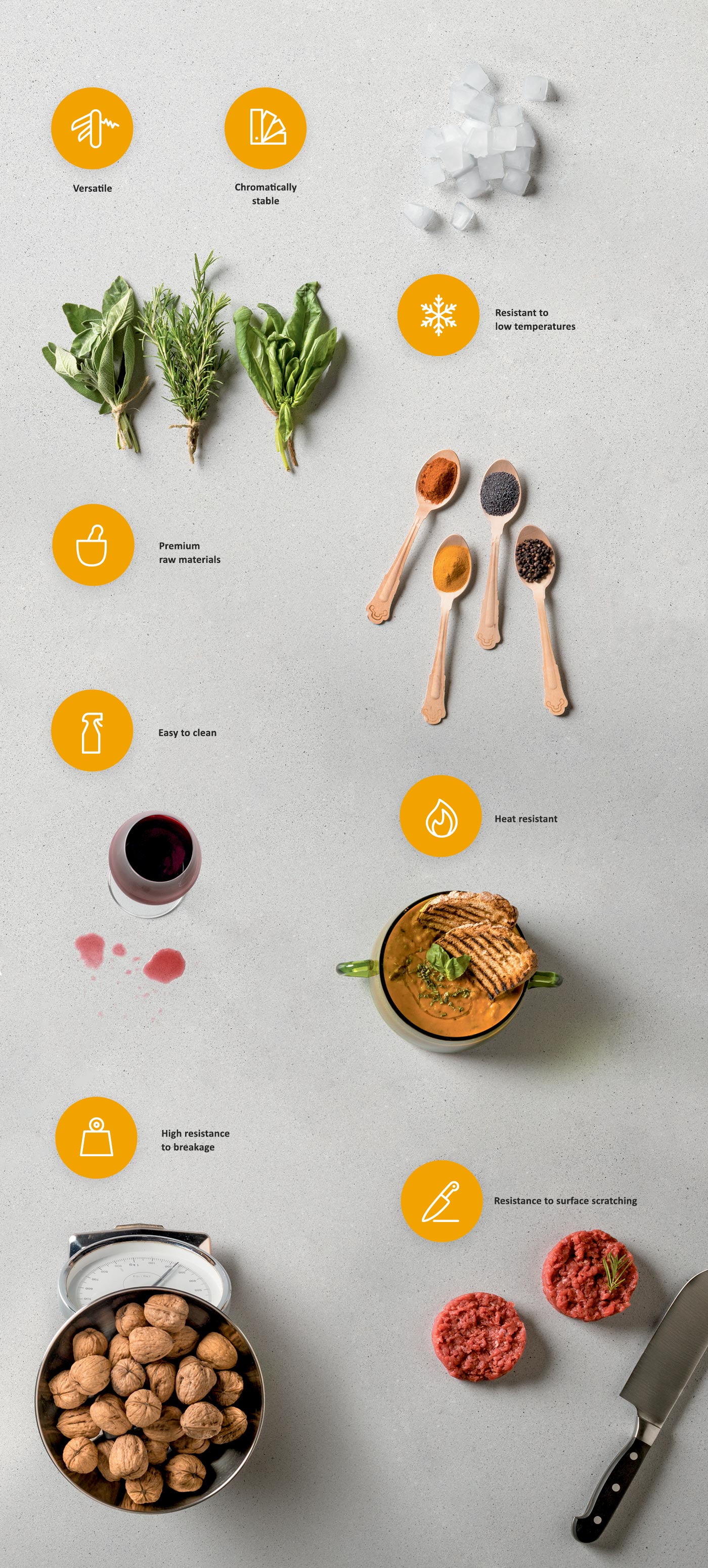 廚房
廚房是我們在家中最常使用的一個地方,也是我們釋放想象力與自由的地方。
為您的廚房提供了完美的框架。得益於設計統一性和細節的優雅性的創新大型板胚。Infinity憑藉其技術特性,確保您始終在最佳的衛生和舒適標準下與親朋好友一起烹飪和享用美食。
家具/覆層
就像量身定制的服裝一樣,Infinity可以完美地應用於室內和家具覆層。較輕的重量和易於加工的特性使其適用於桌子,櫃檯,門,壁爐和許多其他用途。

浴室
Infinity具有接近零的孔隙率,使其只需簡單直接的維護即可。此外,豐富顏色的表面是您的櫃檯,面盆,地板或淋浴牆的理想選擇。
得益於Infinity大型板胚,作爲您清潔、個人護理和休閒的浴室,將具有嶄新的重要性及更高的價值。
戶外
Infinity板材還可以用於製作戶外家具,甚至可以搭配任何建築物的戶外覆層。這種材質不會受到與大氣溫度變化有關的任何問題的影響,即使暴露在露天的大氣環境中也只需輕鬆的清理。
通風牆幕
瓷磚石材的通風牆幕在許多方面都是一種優質的選項。實際上,從各個角度來看,它都是一種特別有利的建築砌面的系統,因為它具有:節能、改善環境清潔度、易於翻新、防水等優秀的特性。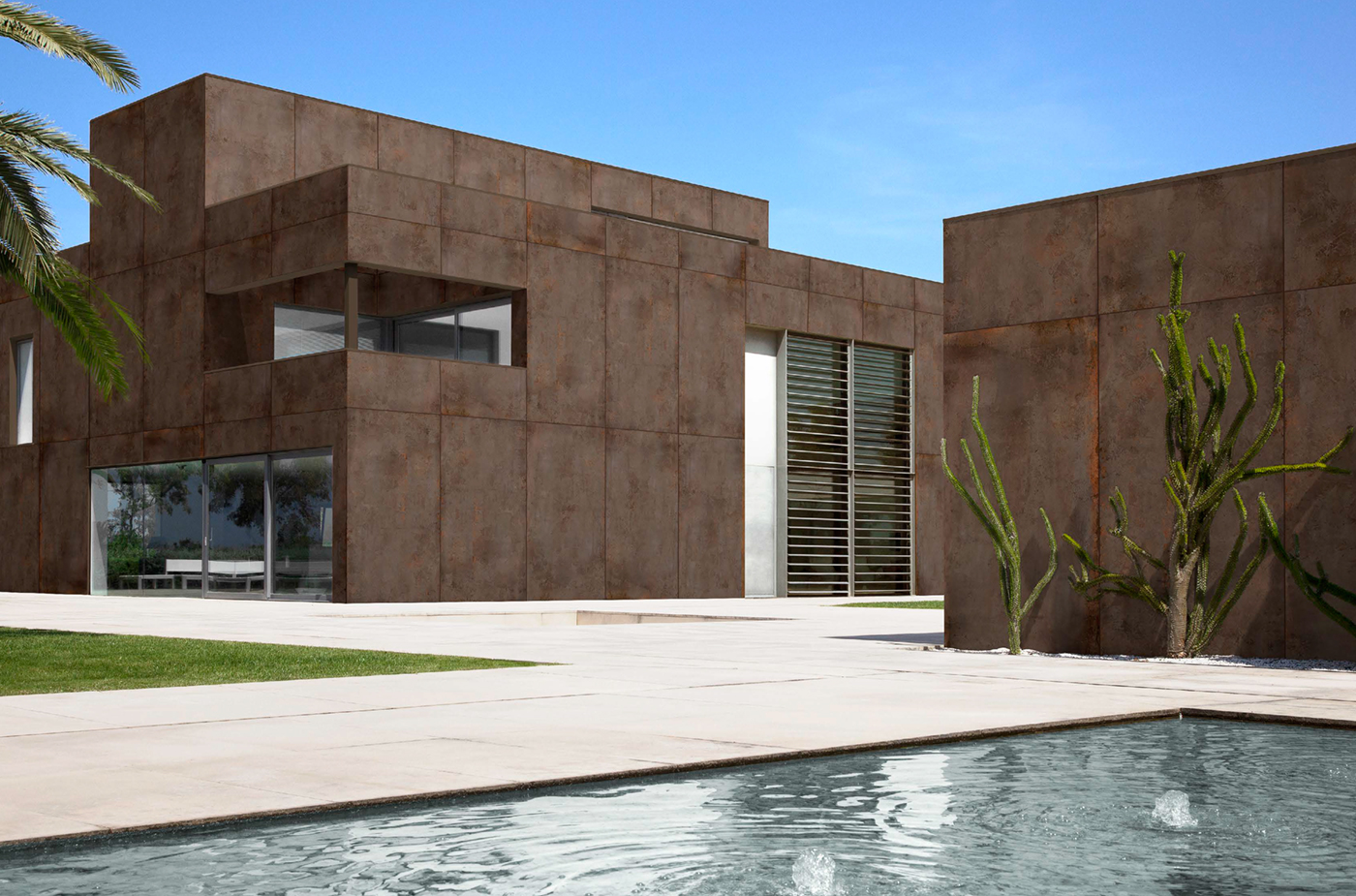 可持續解決方案
通風幕牆是高度可持續的系統,可以改善建築物的能源效率。
通風系統搭配隔熱層一起使用,可最大程度減少與內部區域冷卻相關的能耗,提高室內舒適度,從牆面的後端中分散水分,並保護它們免受惡劣天氣的影響。